Harriet and Kenneth Kupferberg Holocaust Center
The lessons of the Holocaust offer an unparalleled opportunity to address the cultural, educational, and civic needs of our diverse community. The Harriet and Kenneth Kupferberg Holocaust Center (KHC) is neither a museum nor a library: We are a learning laboratory where students, survivors, and community members learn through their hearts, minds, and actions.
Featured Event
Mass Democracy and the New Populist Challenge
When:

Wednesday, September 25 at 4:00 PM
The United States and various European countries have been experiencing a rise in populist authoritarian movements, sparking new research and debates concerning what constitutes authoritarianism. Dr. Adam Luedtke, Assistant Professor of Political Science at QCC-CUNY, and Belinda Cooper, adjunct professor at both New York University's Center for Global Affairs and Columbia University's Institute for the Study of Human Rights, will explore authoritarianism as it relates to current populist movements.
Part of the KHC/NEH 2019-2020 Colloquium: Authoritarianism on the Continuum
This event is FREE, but registration is requested.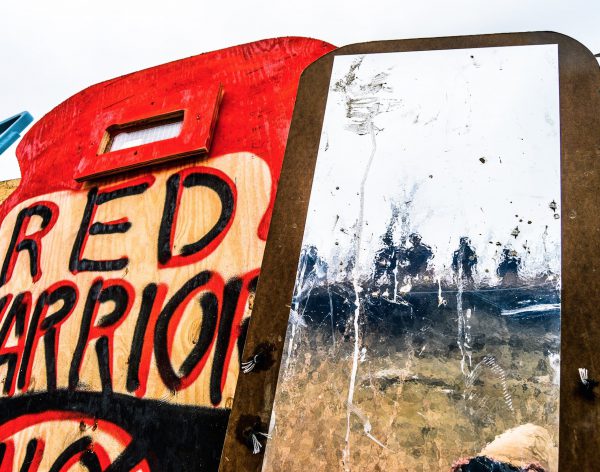 Current Exhibit
Survivance and Sovereignty on Turtle Island: Engaging with Contemporary Native American Art
Survivance and Sovereignty on Turtle Island: Engaging with Contemporary Native American Art will be on view at the KHC from August 27, 2019, through May 21, 2020. The exhibit is curated by Danyelle Means (Oglala Lakota) and QCC Art & Design faculty member, Kat Griefen, in collaboration with students and alumni from the QCC Gallery and Museum Studies Program and the KHC Fellowship Program. The exhibition addresses the histories and present-day realities of the first people of this continent through contemporary art. Turtle Island is the name given to North America by the Anishinabek, the Haudenosaunee (Iroquois), and the Lenape—some of the Indigenous people of this region. The sixteen works on display address survivance: a term that emphasizes both cultural survival and resistance in the face of hundreds of years of genocide and mass atrocities. Survivance and Sovereignty on Turtle…
Our Mission
To use the lessons of the Holocaust to educate current and future generations about the ramifications of unbridled prejudice, racism, and stereotyping.
Visitor Information
All members of the public are welcome. Hours of operation are Monday–Friday, 10:00 AM–4:00 PM. There is no admission fee. For more information about becoming a volunteer, intern, or to schedule a tour, please send an email to the address listed below:
222-05 56TH AVENUE
BAYSIDE, NY 11364
(718) 281-5770
KHC@QCC.CUNY.EDU
Large group visits to the KHC are by appointment only. For bookings and any other questions, please call or send us an email.
Donate
Please help ensure that the voices and lessons of the past continue to shape current and future generations.
Donate Now