Kupferberg Holocaust Center
The lessons of the Holocaust offer an unparalleled opportunity to address the cultural, educational, and civic needs of our diverse community. The Harriet and Kenneth Kupferberg Holocaust Center (KHC) is neither a museum nor a library: We are a learning laboratory where students, survivors, and community members learn through their hearts, minds, and actions.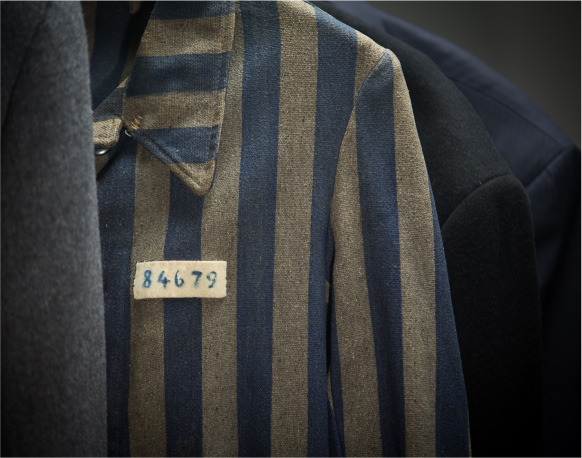 Current Exhibit
The Jacket from Dachau:
One Survivor's Search for Justice, Identity, and Home
Open through June 2017
In July of 2015, KHC was contacted by a vintage clothing dealer about a recent acquisition of a unique garment at an estate sale. In the back of a walk-in closet, amid a variety of old shirts and vintage dresses, hung a faded striped jacket. A year later, we now know the story of Benzion Peresecki, a young Jewish man from Lithuania who wore this jacket for ten months in Dachau and kept it for 33 years. The exhibit tells Peresecki's story of his immigration to the US, his legal pursuit of reparations, as well as historic photos, maps, multiple testimonies, and short films. It is a story of Holocaust survival that demonstrates the power of a single artifact to connect narratives of justice, identity and a search for home.
Featured Event
Some were Neighbors: Complicity & Collaboration, a Workshop with The United States Holocaust Memorial Museum
When:

Wednesday, September 13 at 12:10 PM

Where:

Kupferberg Holocaust Center
The United States Holocaust Memorial Museum (USHMM) has a permanent and online exhibit that highlights the role bystanders played in facilitating the escalation of genocidal policies towards European Jews. While Hitler and high level Reich members have primarily been held accountable for the atrocities of the Nazi regime, along with specific perpetrators of their genocidal aims, widening the scope outside of the parameters of the rank and file members of the party introduces a host of more complex and ambiguous issues.
Our Mission
To use the lessons of the Holocaust to educate current and future generations about the ramifications of unbridled prejudice, racism, and stereotyping.
Visitor Information
All members of the public are welcome. We are open Monday–Friday, 10:00 AM–4:00 PM. There is no admission fee.
222-05 56TH AVENUE
BAYSIDE, NY 11364
(718) 281-5770
KHC@QCC.CUNY.EDU
Large group visits to the KHC are by appointment only. For bookings and any other questions, please call or send us an email.
Donate
Please help ensure that the voices and lessons of the past continue to shape current and future generations.
Donate Now