Kupferberg Holocaust Center
The lessons of the Holocaust offer an unparalleled opportunity to address the cultural, educational, and civic needs of our diverse community. The Harriet and Kenneth Kupferberg Holocaust Center (KHC) is neither a museum nor a library: We are a learning laboratory where students, survivors, and community members learn through their hearts, minds, and actions.
Featured Event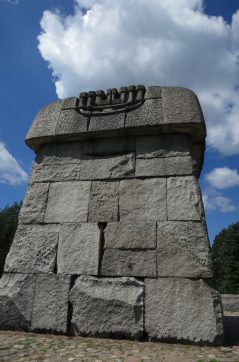 Annual Yom HaShoah Commemoration
When:

Sunday, May 05 at 1:00 PM
As the number of survivors and eyewitnesses of the Holocaust sadly dwindles with the passage of time, the imperative to both remember the past as well as educate young people about its connection to the present takes on greater urgency. This year we focus upon how the Holocaust remains a part of living memory through the passing of this trauma from survivors to their families. Please join us for a conversation with three second generation survivors as they reflect upon the devasting impact the Holocaust had on their parents as well as the ways this tragedy continues to shape their own lives.
This event is FREE, but registration is requested.
Part of the Drs. Bebe and Owen Bernstein Lecture Series
Current Exhibit
Conspiracy Of Goodness
The Harriet and Kenneth Kupferberg Holocaust Center is proud to unveil its newest original exhibition that tells the story of how an isolated Huguenot community in the Haute-Loire region, saved 3,500 Jews from Nazi Germany and the soldiers of Vichy France. Villagers of Le Chambon-sur-Lignon and the surrounding villages, joined together to conceal, rescue, and provide false documentation for Jews and French Resistance fighters, at great risk to their own lives. They offered sanctuary and kindness to refugees, while they, the Huguenots (French Calvinists), had lived under oppression themselves and were targets of religious persecution for hundreds of years. The unwavering willingness of the villagers of Le Chambon to help those in need is a testament to the power of the human spirit and will serve as an outstanding model to students and other visitors about our responsibility to respond…
Our Mission
To use the lessons of the Holocaust to educate current and future generations about the ramifications of unbridled prejudice, racism, and stereotyping.
Visitor Information
All members of the public are welcome. We are open Monday–Friday, 10:00 AM–4:00 PM. There is no admission fee.
222-05 56TH AVENUE
BAYSIDE, NY 11364
(718) 281-5770
KHC@QCC.CUNY.EDU
Large group visits to the KHC are by appointment only. For bookings and any other questions, please call or send us an email.
Donate
Please help ensure that the voices and lessons of the past continue to shape current and future generations.
Donate Now